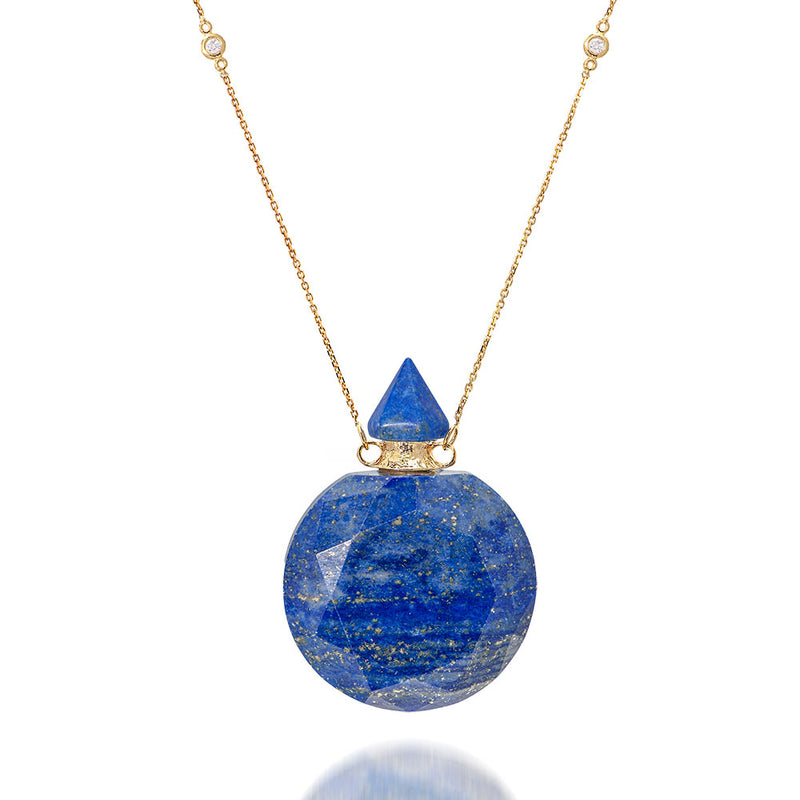 potion in a bottle - Faceted Lapis 14K GOLD
Starting at $181/mo with . Prequalify now
Pay in full or in 4 interest-free installments of $498 with .
multiple installments are available at Checkout in relevant countries.
Handmade Jewelry
Up to 12 monthly payments
Potion bottles necklace to fill with essential oils/ perfume. Comes with a mini dropper.   

Lapis Lazuli: The Illuminator
Qualities: 
Lapis Lazuli is a crystal of truth in all aspects. It reveals inner truth, promotes self-awareness, and allows for self-expression without holding back or compromising. It provides for the relief of suppressed emotion and allows for it to the surface, helping to diminish and ease repressed anger.
Lapis is activating the higher mind and enhancing intellectual ability while stimulating the desire for knowledge, truth, and understanding in the realms of life that have yet to be understood. It is excellent in enhancing memory and will attract promotion, success and outstanding recognition in your field.
Benefits:
The throat chakra serves as a pressure valve for all other chakras to flow out from. When this valve is blocked it can cause pharyngeal tightness, stiffness, and sickness.
Lapis will provide the healing and restoration your throat, larynx, and vocal cords need in order for your words to glissade through with powerful intention. 
Mantra:
My truth is my lighthouse, a beacon of bright light, shining the way into seas of uncertainty. I supply, my ships of thought a direct line of sight. I am insightful and concise. I have the clarity and understanding of all my doubts and deepest convictions. I hold, all my own answers, they have been here from the start. 
Description
We are using natural stones, each and every bottle is uniquely different. 
30 mm Lapis Lazuli, facet cut, 14K GOLD chain. The lid mechanism is made of stainless steel. 
WORLDWIDE SHIPPING
Express Shipping Worldwide:
We ship all our orders express worldwide, door to door. It takes 2-5 business days (to most countries). 
Processing time: 
Potion Bottle Necklaces (Gold plated) - order processing time is 1-3 days, as we maintain stock of these items.
All other Danielle Gerber jewelry is made to order unless stock is already on hand. Please allow up to 14 business days for your order to process and prepare before shipment. We are a small team and all pieces are made by hand; we appreciate your patience, we promise it is worth the wait!
* Some specific items might take up to 21  business days (FINE potion bottle necklaces) - stated in item's information.
Rush Orders: If you need to receive your order by a certain date, please email contact@daniellegerber.com with the subject line RUSH ORDER and we'll discuss the best option for you.
Signature requirement: Our shipping method is an express door to door delivery. We do our best to make sure your goods arrive safely and directly to your hands, thus, we require your signature upon accepting the package.
If you choose to waive your signature requirement for accepting the package, and you tell the shipping company - that contacts you to coordinate the delivery - to leave the package outside your door, then you waive the insurance with us as well. In such case, if something happens to your package after it was left by your door (e.g. disappeared/stolen) - we cannot assist in replacing \ refunding the items. 
Customs and Duty Charges - Non-US Customers:
Prices presented at the web site usually include the relevant local VAT.
We perform the billing process all countries except USA through GLOBAL-E, a trusted third-party company. (For USA we use the standard Shopify's billing process).
Global-E usually collects the relevant local VAT during the check-out process and presents it to the customer in the receipt, so that customer does not need deal with it when the package goes through customs. Global-E will transfer the VAT to the local authorities. Global-E uses DHL for actual shipping worldwide.
Return & Exchange
A return and a refund can be performed within 7 days from the delivery date -  for items that are not Fine jewelry (I.e. not 14K/18K gold).
Fine Jewelry items (14K/18K gold) are eligible for exchange only, within 7 days of the delivery date. Please note that every Fine jewelry piece of ours is made to order.
The jewelry should be in the original purchased condition, including all product documentation.
For refund of products purchased via PayPal or a credit card please allow 2 weeks for your account to be credited.
Final Sale
Custom Orders are final sale and cannot be returned or exchanged.
All Jewelry items (Fine Jewelry (14K/18K gold) and Fashion Jewelry) purchased with a 15% discount or above are final sales and cannot be returned. They can only be exchanged.
Fine Jewelry (14K/18K gold) Cancellations
If you cancel your order within 12 hours, you will receive a refund. However, after 12 hours you're subject to up to a 50% restocking fee based on the materials of the piece and the amount of work that's been done.
Charges:
In any case of return or exchange or cancellation of the purchase, the shipping cost (if paid by the customer) will not be refunded. The same applies to any tax fees or special insurance fees paid by the customer. 
You will be responsible for paying for your own shipping costs for returning your item to our warehouse. 
If you wish to request a return or exchange, please email us at the following address and we would be happy to guide you through the process. contact@daniellegerber.com .
Warranty
For a repair/exchange of a damaged product after the first 30 days from delivery, please check our warranty.